Sorted by
Product Type
Suitable for
Material
Colour
Age
Brand
Brake
Series
Number of wheels
Weight (kg)
Length (cm)
Width (cm)
Height (cm)
Price
SHOW RESULTS (

8

)
Toys
An important part of any family home is of course your children's things. That's why we here at Etrias Brands have included a great range of all sorts of toys for you to help keep your kids entertained. These toys offer so much fun for all the family, and help you to keep your kids active. With toys for all ages, you are sure to find the perfect toys for your kids, no matter how old they are.
Trampolines
,
inline skates
,
ice skates
,
ride on cars
,
scooters
- you'll find them all, and much more, right here!
There are no products matching the selection.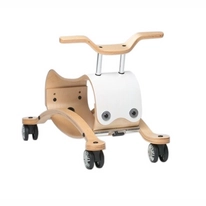 Ride On Car Wishbone Flip White
Kids Toys
In a world becoming ever more full of smartphones and tablets, its important to remember to keep your kids active. With the great toys in our kids collection, that's a problem of the past! Give your kids endless hours of fun on a brand new scooter, a
pedal go-kart
, skates, and so, so much more! You'll find our full collection of children's toys right here on the page above.