Flip Flops
No child's footwear allows them to properly relax quite like a pair of highly comfortable, and highly breathable kids' flip flops. We offer a wide range of flip flops for children of all ages, featuring different colours and styles to ensure that your child looks fashionable and remains comfortable. Whether you are on a family holiday, a trip to the beach, or relaxing in the city, you will find the right pair of flip flops for your child here at Etrias Brands. For an alternative to the flip flop, you can browse through our collection of
kids' sandals
.
There are no products matching the selection.
Sandals Birkenstock Kids Mayari BF Silver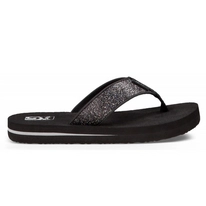 Teva Children Mush II Black Sparkle
Kids' Flip Flops
Cool, comfortable, and stylish. These are three words which describes our range of children's flip flops at Etrias Brands, chosen from a variety of high quality brands that will ensure your child gets the most out of their family holiday. To find the right pair of boys' flip flops and girls' flip flops, you can advance your search with the filters on the left side of this page.