Red White Glass Leonardo Puccini 750 ml (6 pcs)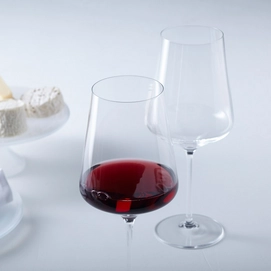 Red White Glass Leonardo Puccini 750 ml (6 pcs)
Add to wishlist
isApplePayment = value" @toggle-spinner="() => spinning = !spinning" @update-shipping="updateShipping()" :special-price="specialPrice" :normal-price="normalPrice" :product-name="productName" >
Mail me when this product is available again
Our service
Free shipping as of €150.00
Fast delivery
2 year warranty
Item description
The Puccini wine glasses set is a beautiful set of glasses and a real must-have for your china cabinet! The large chalice that narrows at the end ensures that the wine can breathe, so that the rich aromas are well expressed. The entire set has also been treated with TEQTON glass formula. This ensures that the wine glasses are more resistant to scratches and impacts. There are 6 wine glasses in this set.
Leonardo is a German brand that is known for its striking stylish glass products and beautiful home decor items. Each glass is top quality and will last for years. Leonardo also has a wide range of elegant and timeless crockery. The motto of the German brand is '' Glass is love '', making it clear that the passion of Leonardo lies with their glassware and is constantly working to improve and renew their classic collections. Leonardo glasses are timeless, elegant, and stylish and will ensure that your china cabinet has a beautiful appearance.
Specifications
EAN

4045037695542

Wine Glass

Brand

Leonardo

Series

Leonardo Puccini

Colour

Transparent

Material

Glass

Height

25.5 cm

Volume

750 ml

Scratch-Resistant

Yes

Dishwasher Safe

Yes

Kind of wine

Red Wine

Quantity

Set of 6
Reviews
Nicola+Singleton
December 21, 2020
Amazing glasses!
These glasses are beautiful and perfect for red wine, we've had so many compliments on them!
Emilie+Tomann
December 6, 2020
Beautiful but sturdy
Positive points
Elegant shape
Strong stem
Large, but not overly so
Very good delivery time, glasses were very well packed
Sarah+Roy
December 5, 2020
White wine glasses
Positive points
Beautiful shape
Excellent quality
Great price
Easy to order. Stylish looking , long stem glass. Quick to deliver. Excellently packaged. Will be ordering from site again
Kate+Rudd
November 2, 2020
Beautiful wine glasses
We've been looking for large wine glasses in this shape for ages and were so glad to come across these. Beautiful glassware and very good quality. I've ordered some white wine glasses to match.